Hibben
Mount Pleasant, SC

While traditional neighborhood developments are urban in theory, public opinion surveys have indicated that prospective homeowners want more green space. All home sites at Hibben are at least 10 feet wider and 10 feet deeper than lots at other traditionally designed neighborhoods.
"At Hibben we are sensitive in how our homes relate to the environment," said Mark Regalbuto of Crescent Real Estate, which is marketing Hibben. "We want to retain as much of the natural pristine beauty as possible."
Conceptualized as a traditional neighborhood design, Hibben's real focus is its authenticity, balanced with affordability. Floor plans, in a variety of period styles, capture the true feeling of small-town Southern charm. While traditional neighborhood design is conducive and appealing to an eclectic, diverse grouping of people, in practice it is very expensive to develop. Most traditional neighborhood developments demand authenticity in every respect, driving up not only construction expenses but also long-term home maintenance costs.
Hibben, on the other hand, has chosen a true traditional neighborhood design but with modern construction materials to reduce costs. For example, instead of exterior wood siding, which is costly to install and maintain, Hibben uses cement fiber siding such as Hardiplank, which offers the distinctive look of wood combined with low maintenance and durability. These economics-based measures allow Hibben to adhere to architectural guidelines governing style while still providing the affordability that draws a wide variety of homeowners.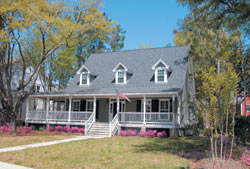 Since Hibben appeals to newlyweds, executives, young families with children and empty-nesters looking to downsize, homes vary in size from 1,400 square feet to 4,000 square feet. And with new home construction costs ranging from $150 to $165 a square foot, Hibben offers an affordability that is hard to find in Mt. Pleasant.
Simonini Builders, The Lantana Company, Driftwood Construction, Palladio Homes, Heyward Builders, Robert Benjamin Homes, Custom Homes of Carolina and Airlie Homes are some of the outstanding preferred builders available to help prospective homeowners with all their construction decisions.
Would you like this content on your website or do you have any questions about this article? If so, contact publisher@mediaservices1.com.