Del Webb at Cane Bay - Summerville, SC
Get a Lifestyle - At last, Life is about you.
By Barbara Patrick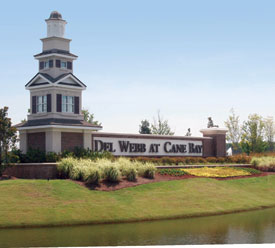 The lowcountry is full of wonderful neighborhoods that boast of convenient living and an ideal climate, but very few places can offer what's available at Del Webb at Cane Bay. Del Webb communities are known for quality homes and resort-style amenities, but they offer something more.
Money can't really buy the most intangible asset at Del Webb at Cane Bay. It goes far beyond quality home construction and resort-style amenities and beautifully landscaped grounds. That asset is lifestyle, a word often bandied about but perhaps not fully understood. It is more than just golf and tennis.
People who move to Del Webb at Cane Bay discover something they have been searching for all their lives: the opportunity to do as much or as little as they wish and the chance to rediscover childhood hobbies or to excel at games – or even to pursue education.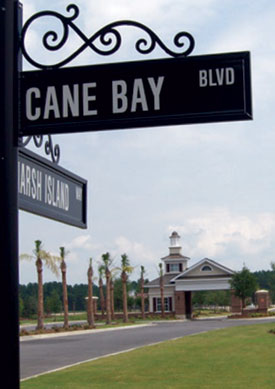 Lifestyle director Jennifer Burton said she finds it interesting to work with residents because they are so involved in creating this lifestyle.
"It's rewarding to help people enjoy their retirement," Burton said. "We have more than 40 different interest groups led or organized by residents. And they bring in speakers for continuing education. They do so much."
STELLA SULLIVAN AND MIKE HAND
The Ambassadors
Stella Sullivan and Mike Hand had some pretty deep roots in Massachusetts. They lived in Lexington and vacationed often at Cape Cod. In 2002, it seemed only natural to retire there. During the brutal Northeastern winters, Sullivan and Hand spent time in Florida.
Life was good. So what possessed these two to settle in Cane Bay, near Summerville, South Carolina? It was a combination of the Northeastern climate and the seemingly endless drive to the Sunshine State and back.
They checked out numerous retirement communities in Florida and stayed at a few places, but nothing seemed quite right. Then, on the way home, an e-mail about Del Webb at Cane Bay changed everything.
"We came down and looked around," said Sullivan. "We were one of the first ones to sign on the dotted line." Sullivan laughs and continues, "There were no roads, nothing. There wasn't even a model. We actually bought our home from a brochure. And I love it here."
Sullivan and Hand loved the climate and were hooked by the location in Berkeley County, near Summerville, Moncks Corner and historic Charleston.
"I checked everything, including the distance to Publix and to the beaches and everywhere else," she said.
The couple has seen Cane Bay grow dramatically, literally from nothing to 270 homes. Upon completion, the Del Webb community will include about 1,000 homes.
Del Webb communities are known for well-built homes, but the real draw is the incredible array of activities that are available. You'll find all the standard amenities here, including heated pools, tennis courts and fitness facilities. There are clubs galore and residents are encouraged to create additional groups that serve their interests. Woodland trails invite both walking and bicycling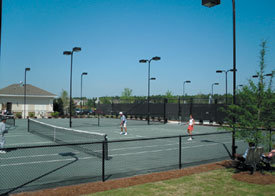 KATHY AND FRED BENTLEY
The Homebodies
Kathy and Fred Bentley are big fans of the Del Webb lifestyle. In fact, after years of working for the National Park Service, their plan all along was to settle in a Del Webb community in a congenial climate.
Kathy Bentley confided that she and her husband first moved to Sun City Carolina Lakes, just south of Charlotte, North Carolina, explaining that the number one reason for moving South was retirement.
"For several years, I wanted to live in a Del Webb community," Bentley said. "We like the lifestyle and the amenities. We took a couple of weeks and visited a number of them and made it to Del Webb just outside of Charlotte."
Two years ago, the Bentleys saw an ad for Del Webb Cane Bay near Charleston and decided to make one more move.
"We love all the things this area offers and the wonderful weather," Bentley said.
The Bentleys settled into their new home in Cane Bay in May and have enjoyed exploring the area. They've been on a carriage ride in downtown Charleston and visited the beach.
"We had an evening downtown and took the ghost walk," Bentley said, adding that she looks forward to many more excursions and to getting involved with cultural events in the community.
"I love where I live!" she exclaimed.
Not that there is much reason to leave Cane Bay, with the scores of activities offered by Del Webb communities, one of the big draws for the Bentleys.
"They offer so many activities, we thought it would be fun to have so many things to do," Bentley said. "It's like senior camp without campfires. We drink wine instead."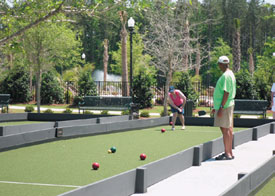 AL AND SUE LIEGL
The Social Butterflies
It's all about lifestyle for Al and Sue Liegl. Formerly of Cleveland, the Liegls enjoy socializing with friends, and Del Webb at Cane Bay affords them the opportunity to do just that. In fact, within days of closing on their home in October 2008, the Liegls were invited to a party.
"We moved in early October and a couple of weeks later, we were invited to a Halloween party," Liegl said. "Then there were holiday parties."
Liegl said it is easy to get to know people at Cane Bay, adding that "there's a cast of characters here, and I fit right in."
The Liegls chose Charleston to be near their son and daughter-in-law, who both are stationed at Charleston Air Force Base.
"We have two grandchildren and a third on the way," Liegl said. "Sue goes and helps them a couple of days a week."
"We had been coming down at least two or three times a year and we saw so many developments," Liegl continued. "We heard about Del Webb communities and even looked at one in Ohio. The majority of people are our age and that's nice."
Liegl said there are people from almost every state at Cane Bay, which adds to the fun.
"We had a chili cook-off, so we had all the different versions," he said. "And we had a hot dog social, where everybody brought a dish. Two Saturdays a month, we have a dance social."
He explained that just about any activity or interest is represented and that "if there's not a club, make one." But, he said, it is all up to the residents to do as much or as little as they like.
The Liegls are both involved in the community – Sue helps with social events and Al is involved with maintenance and safety. They are also ambassadors for Del Webb at Cane Bay.
"We took a prospective buyer out to dinner," Liegl said. "They wanted to spend time with people who really live here. They ended up buying."
Of course they did.
BONNIE CRAVEN AND ALLAN BEAVERS
The Travelers
For a good time at Cane Bay, drop by "The Garage," an impromptu neighborhood social gathering at the home of Allan Beavers and Bonnie Craven – if they're at home, that is.
Beavers and Craven were childhood sweethearts in Omaha, Nebraska. Bonnie eventually moved away, and they lost touch with each other.
Fate intervened and brought the two sweethearts back together after both were widowed. Beavers owned a home in Omaha, where he still has family, and Craven had a house in Charleston. To make traveling back and forth easier, the couple purchased a motor home. Then they decided to simplify.
"We wanted to downsize," Craven said, "so Allan sold his home in Omaha."
An acquaintance suggested that they look at Cane Bay.
"We went through all the models. We sat in them for a while," Craven said. "We liked it."
"We picked out our house and made our choices," Craven continued, "then traveled to Omaha while my oldest son took pictures of the construction for us."
They rolled back into town in time to close and move in, aided by some of their children and grandsons.
"First of all, I like that our house is all on one floor, and I like the resort feel," Craven said, adding that they can "go to the gym or to the pools, and there are so many other things to do."
"And we love our street," she added, explaining that neighbors often get together for coffee or cocktails at "The Garage."
Because they wanted to enjoy traveling in the motor home – they're gone about five months out of the year – it was important to have a home base in a secure, gated community where "guards keep an eye out." Craven's police officer son adds a degree of safety by living there temporarily and has hinted that they "might have a hard time getting rid" of him.
"We love it," Craven says.
For many, retirement conjures up a fantasy of carefree living, fun with friends and enjoying the adventures of each new day.
At Del Webb at Cane Bay, it's no fantasy. It's the real thing.