Luxury Homes
Mount Pleasant, SC
152 Cape May Rd. - River Watch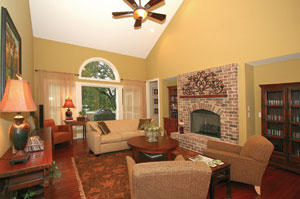 TERRY HORRES
ABR, CRS, GRI REALTOR®
ASKING PRICE $675,000
3,150 SQUARE FEET
4 BEDROOM, 3.5 BATH
"If I ever wanted to build another home, I would definitely select our builders again," said Cheri Lasher, owner of 152 Cape May Lane in River Watch, a unique neighborhood in Mount Pleasant, South Carolina.
She was talking about the custom home built by L.H. Rourk Construction in 2007.
"You notice the quality of this home as soon as you get here," she added. "Everyone mentions it. I can pay the father-and-son team the highest of compliments."
This three-story home includes a traditional drive-under that stores up to four vehicles.
"We can easily store our boat and three cars in the garage," Lasher noted, pointing out that the community is located just a mile from the boat landing at Remley's Point, within sight of the stately Ravenel Bridge and where the Wando and Cooper Rivers meet to form Charleston Harbor. River Watch also boasts a neighborhood dock where residents can fish, crab or launch a kayak.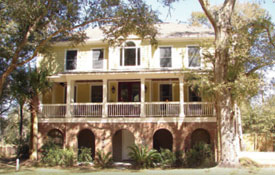 The home at 152 Cape May Lane features a screened porch off the third floor guest bedroom that was specifically designed to enhance the views of the marsh, Molasses Creek to the west and the Wando River, where huge container ships are escorted by tugboats toward the port of Charleston.
In the yard, a 100-year-old oak tree portends the strength and beauty inside the home. Heart of pine floors throughout the house were reclaimed from the Buster Brown building in Chicago. They have been milled, restained and distressed to retain their centuries-old magnificence.
"These floors are 150 to 200 years old. We spent two years trying to find the right flooring and we did," Lasher explained.
There are custom-made cabinets in the kitchen and all the bathrooms, as well as custom window treatments in every room. Oil-rubbed dark hardware throughout, solid wood 8-foot doors, a raised hearth with a custom-built gas fireplace inside and a stone wood-burning fireplace on the screened porch all provide a look at a long-ago time but with the reliability of modern construction.
"This is a very diverse area, which is what attracted me and my husband," Lasher concluded. "This is a great place to live."
By Stacy Domingo