The Preserve at the Clam Farm : Folly Beach , SC
By Barbara Patrick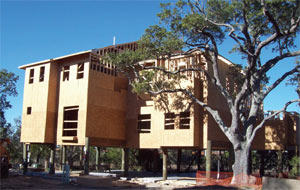 Nearly 75 years ago, while spending a summer on Folly Beach, George Gershwin was inspired to translate the magic that is the Lowcountry into music. Still a beloved favorite, the opera "Porgy and Bess" is a musical tribute not just to Charleston but to Folly Beach. "Summertime," its best-known number, is a classic that evokes sultry summer days, waves washing ashore and a place where time almost stands still.
Many years have passed, and Folly Beach is still that place. Known affectionately as "The Edge of America," Folly is a laid-back community today, but that was not always the case.
History of Folly Beach, SC
Shortly before the official start of the Civil War, Citadel cadets stationed on Morris Island, usually considered to be a part of the Folly Island complex, fired on The Star of the West, a ship carrying supplies to Union troops at Fort Sumter. Two years later, with the war still raging, the North landed 6,000 troops on Morris Island, including the 54th Massachusetts, the African-American regiment memorialized in the movie "Glory." Their assault on Battery Wagner was repulsed, but Folly Island later served as a base for 13,000 Union troops who participated in the siege of Charleston.
During Prohibition, the island was used by rumrunners bringing alcohol to Charleston, and, in the 1930s, electricity arrived, followed shortly by a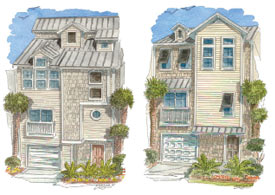 boardwalk, a hotel and the Atlantic Pavilion, which hosted performances by stars such as Tommy Dorsey and Guy Lombardo, as well as several beauty contests.
In the 1960s, Folly Beach was quite a tourist destination and a new Oceanfront Plaza was built to replace the Oceanfront Hotel and Pavilion, which burned down in 1957. In addition to a smooth wide beach, a 1,700-foot boardwalk was lined with concessions, shops, eateries and an amusement park, complete with a Ferris wheel. A new pier stretched out into the ocean, luring fishing aficionados as well as dancers who shagged to beach music under moonlit skies. And a narrow spit of land became an East Coast surfing destination.
Luxury Homes at Folly Beach
The amusement park is long gone, but the relaxed pace of life remains in the form of The Preserve at the Clam Farm, an ERA Tides Realty offering that is rising amid "the center of carefully preserved islands and marshes," just 15 minutes from historic downtown Charleston. When complete, the 62 luxury townhouse condominiums will include three- and four-bedroom units, with four layouts from which to choose: Bull's Eye, Sand Dollar, Abalone and The Conch. They will range in size from 2,276 square feet to 2,698 square feet. The first three buildings are nearing completion and the first buyers can look forward to a move-in date in early March.
Each waterfront townhouse will feature a private elevator, enclosed garage, whirlpool tub, stainless steel gas appliances, granite counter tops,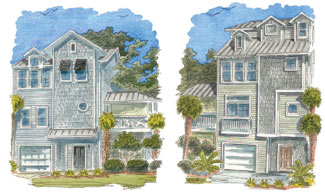 gas fireplace and all-natural gas heat. Private boat docks just might be Clam Farm's most impressive amenity, allowing a lucky few residents to fully access the pristine coastal waters. Current plans call for ten private boat docks to be sold on a first-come, first-served basis.
The color palette chosen for The Preserve "is indigenous to the landscape," says ERA Tides Realtor Lynn Callison. "It blends well with Charleston's historic look."
Interior designer Ellen Taylor has created several design packages that will add the final individual touches to reflect each owner's personality. Buyers will be able to make their selections at the new on-site sales center and check on the construction progress.
In addition to easy living inside, the community's raised elevation will supply its occupants with breathtaking sights. Folly Beach's naturally beautiful landscape will be maintained and protected. According to the ERA Tides Realty Web site, "The only vegetation that will be disturbed will be in the actual footprint of the building." On the bank of the Folly River, residents of The Preserve at the Clam Farm ill be able to see dolphins play as bald eagles, ospreys, herons and egrets hunt for their next meal. Residents will also enjoy the changing seasons of the marsh. Crabbing and shrimping in the river will be one of the joys of living in such a desirable setting.
Callison says The Preserve at the Clam Farm has met with positive response from potential home-buyers. The craftsmanship and the prime location appeal to those looking for a year-round home, as well as buyers seeking a vacation or investment property. Gershwin was right. The livin' is easy.