Mariners Cay: Folly Beach, SC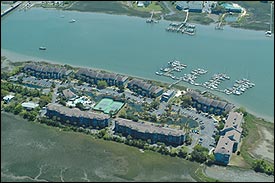 Folly Beach, a pristine barrier island that is often called "The Edge of America," is located only minutes from beautiful historic downtown Charleston.
Folly Beach property values, especially for condominiums, have soared during the past decade. Nowhere is that more evident than at Mariner's Cay, a gated community of two- and three-bedroom flats and townhomes complete with a private deep-water marina, a swimming pool, tennis courts and so much more.
Mariner's Cay is a community with personality. Meticulous landscaping frames a winding lagoon that flows lazily around the horseshoe-shaped neighborhood. The community crabbing and fishing dock is perfect for enjoying spectacular sunsets and the enchanting Folly River.
Mariner's Cay is not just another cookie-cutter development – it is a proven investment. Fifty condominiums were sold in Folly Beach last year, 20 of them at Mariner's Cay. The numbers are similar so far in 2003 – 40 percent of Folly Beach's condo sales are properties in Mariner's Cay.
Averaging one month on the market and with asking prices ranging from $299,000 to $475,000, Mariner's Cay appeals to retirees, baby-boomers, secondhome vacationers and investors alike.
While Mariner's Cay has a large percentage of full-time residents, long-term and weekly vacation rentals are permitted, providing potential buyers with the perfect affordable investment opportunity.